4Business Group Brisbane


SEO, Adwords, Digital Marketing, Websites, Printing and Signage
Welcome to 4Business Group. For over 20 years we have been partnering with Brisbane clients to provide a complete small and medium-sized business marketing management service. We have partnered with some of Brisbane's fastest growing business and have helped them embrace the power of digital marketing through our integrated marketing services including web design and development, digital marketing strategy, Adwords and SEO optimisation and business branding, printing and signage.
We pride ourselves of providing industry-leading service to our growing list of clients and we are certain that we can help your business take control of its marketing strategy and grow!
At 4Business Group Brisbane, we have helped hundreds of businesses, big and small drive their business growth by attracting, engaging and inspiring their audiences through digital marketing, website design, signage and printing.
We have over 5 years of experience as a multi-disciplinary marketing consulting agency and can help business owners to create effective marketing strategies for their business and execute these strategies in a cost-effective and efficient way.
We believe that it is truly the age of the customer. In 2019 the customer has access to more information and more choices than ever before. We understand that the key to success for any business including our own is not only to attract and inspire new customers to partner with us but to provide continued value to ensure long term partnerships provide ongoing benefits.
We promise to:
Our team is dedicated to open, frequent, and transparent communication with our clients. Digital marketing can be confusing and technical and it is our aim to help you understand what we are doing, why we are doing it, and what results you can expect.
Small and medium-sized businesses by nature have the opportunity to be agile. When competing against bigger businesses, this can be your secret weapon. At 4Business Group we are passionate about helping you design highly effective digital marketing strategies and execute them quickly to make the most of first mover advantage.
Our customers' success is the most important thing for our team. We focus on designing and executing strategies that get results, fast. Whether you are wanting to increase your website traffic, optimise for conversion or reach new audiences, we have the experience and know how to make your business goals become a reality.
For over 5 years, 4Business Group has been winning fans in Brisbane and beyond. We have worked with many of the fastest growing businesses in Brisbane, and have instrumental in their success by providing smart, cost-effective and rapidly executed digital marketing strategies. From beauty and fashion businesses, trades and professional services through to eCommerce and online retailers, our team of experts know what it takes to build your business and amplify your growth through digital marketing.
Some of our client success stories include:
Keyword Research • Relevant Content • Submission to Directories and Search Engines • Backlinks • SEO Monitoring and Maintenance
In 2019, it is vital that your potential customers can find you online. SEO or Search Engine Optimisation is the process of ensuring that search engines such as Google, Bing and Yahoo understand who you are, what services or products you provide and that your website is highly relevant to the keywords people are searching for.
Search Engine Optimisation
4Business Group can help you with a complete SEO management solution including keyword strategy design, website on page optimisation and ongoing SEO monitoring and improvement plans. SEO experts understand that the key to effective SEO for small businesses is continual improvement through the creation of strategic content designed to get your message in front of your potential customers.
3 Reasons to Choose Our Brisbane Search Engine Optimisation Services
Increase your rankings on Google.
Optimise your landing pages for the best keywords for your business.
Increase your PR score with quality backlinks.
Google Adwords
Google Adwords can seem complicated, but when you have specialists knowledge and experience you can ensure that your advertising budget is spent effectively and that the people clicking on your ads become customers and loyal fans.
3 Reasons to Choose Our Brisbane Google Adwords Services
Make the most of your marketing budget.
Get more clicks on your Google Ads.
Be top of the page for your Google Adwords campaigns.
Let the team at 4Business Group take control of monitoring your website's performance with our proactive analytics management tools. We can monitor and review your website's weekly traffic, user interactions, traffic sources and online behaviour and provide advice on ways to continually improve your website user experience and convert traffic into paying customers.
3 Reasons to Choose Our Google Analytics Services
Ensure your google tracking is set up correctly.
Get insights into your website visitors behaviours.
Optimise your website with real insights and data.
Let us help customers in your neighbourhood find you quickly and make contact. We can help with creating an optimised GoogleBusiness Profile to ensure that your business is always at the top and that you are featured on all relevant local business directories.
3 Reasons to Choose Our Brisbane Local SEO & Listings Service
Optimise your business listing on Google.
Be Seen on local business directories and listings.
Get more enquiries from customers near you.
Digital marketing extends beyond Google, and experts recommend that small businesses make the most of all social media and online channels that are available. 4Business Group specialises in the design and execution of smart, goal driven social media and pay per click strategies to ensure that your marketing dollars are being put to good use.
3 Reasons to Choose Our Brisbane Pay Per Click Services
Be seen on a number of different networks and platforms.
Take advantage of cost effective digital advertising options.
Expand your presence beyond Google.
Branding • Logo Design • Websites • Corporate Gifts • Social Media Marketing • Email Marketing
Website Design & Development
The basis for any digital marketing strategy is good web design. Whether you need a new website built from scratch or help to improve your existing website, we have an in house team of Brisbane based web development experts to revolutionise your online presence.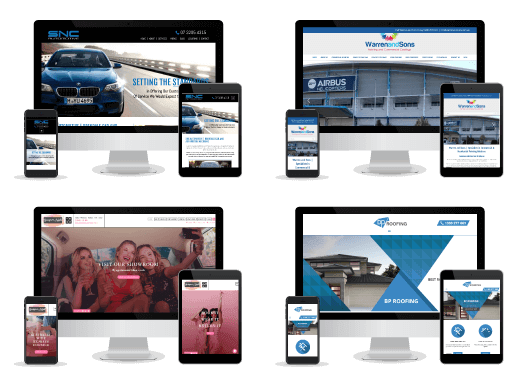 Website Design
You have around 5 seconds to engage a website visitor and keep them interested. What does your website do to grab their attention? 4Business Group are experts in creating highly engaging and informative web pages for small business customers that are designed to convert! We can work with any Content Management System (CMS) including WordPress, Shopify, Magento or BigCommerce and have extensive experience developing custom websites using modern development languages including PHP, HTML5, Javascript, CSS, C++ to name a few.
3 Reasons to Choose Our Brisbane Web Design Services
Work with some of Brisbane's best web designers.
Get a cost effective, high impact website that converts.
Full training and support for the ongoing maintenance of your website.
Good user experience is priceless. The ultimate goal for any website is to keep your customers interested in your products and services, provide an easy pathway to the shopping cart or contact forms and to make sure that they convert. Our team of UX experts can help design a UX  for your website that will blow your competition out of the water.
3 Reasons to Choose Our Brisbane Web Design Services
Ensure your customers have the best experience on your website.
Optimise your website to convert.
Increase web traffic and sales from better user experience.
Lead generation is vital to the ongoing growth and success of any small business. Your website should be built to convert your audience, and good design when it comes to your lead generation funnel is a must. We can help you understand your customer's and your optimal marketing funnel and design landing pages and lead magnets that turn your traffic into paying customers.
3 Reasons to Choose Our Online Lead Generation Funnel Services
Increase lead flow for your business.
Build your opt-in database for marketing and customer communications.
Improve the quality of your leads and enquiries.
eCommerce
For any online retail business, their eCommerce site is the single most important factor that determines whether a customer will purchase or bounce. 4Business have been helping Brisbane businesses design, develop and continually improve their eCommerce presence to maximise sales and support their growth.
3 Reasons to Choose Our Brisbane eCommerce Services
Increase traffic and sales of your product on your online store.
Simplify your eCommerce platform to save time.
Improve the performance of your product listings on Amazon and Google Shopping.
In a world of increasing connectedness, digital marketing is the modern way to reach customers, promote your product and services and grow your business. At 4Business Group, we can help by providing a comprehensive range of digital marketing consulting services that are designed to meet the needs of any growing business.
Social Media Marketing
The world is social. Social media marketing puts you in front of the right customers, at the right time. Increase your brand awareness, promote your latest product and build a community through strategic social media campaigns and advertising.
3 Reasons to Choose Our Brisbane Social Media Marketing Services
Increase your social media following and fan base.
Increase positive reviews of your products and services.
Tell your story through strategic social media campaigns.
In 2019, content is King. Content marketing gives small businesses the opportunity to build brand awareness and loyalty by providing thought leadership, customer education via Blogs, articles and content. Our team of expert copywriters and content creators can take the hassle out of your content marketing strategy, and provide a full content marketing strategy and execution plan.
3 Reasons to Choose Our Brisbane Content Marketing Services
Build a strategy to become a thought leader in your field.
Increase your website rankings and traffic with high quality blog content.
Earn backlinks to your website with interesting and relevant content.
Email marketing gives you the opportunity to stay top of mind with your loyal customers and promote new products, services and offers. 4Business Group can help design and execute smart email marketing campaigns that will increase your sales and customer engagement.
3 Reasons to Choose Our Brisbane Email Marketing Services
Make the most out of your contact database.
Keep your customers up to date with your latest products, services and promotions.
Maintain positive brand image with professionally designed email communications.
Large Format Printing • Banners & Billboards • Building Signage • Vehicle Wraps
Your business needs to be seen. 4Business Group can help your business get noticed with a full range of digital and offset printing, signage design and creation as well as banners, flags, vehicle wraps and more. Speak to one of our Brisbane based signage specialists about how to get your businesses brand front and centre.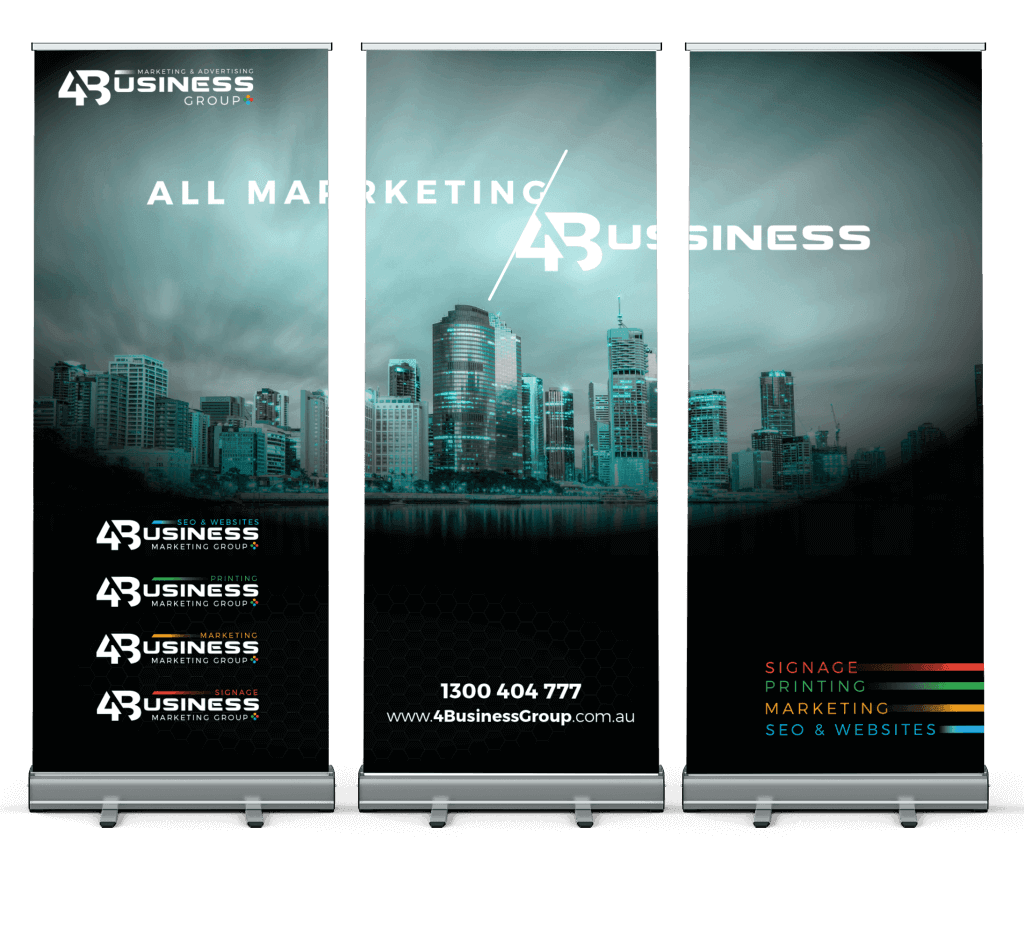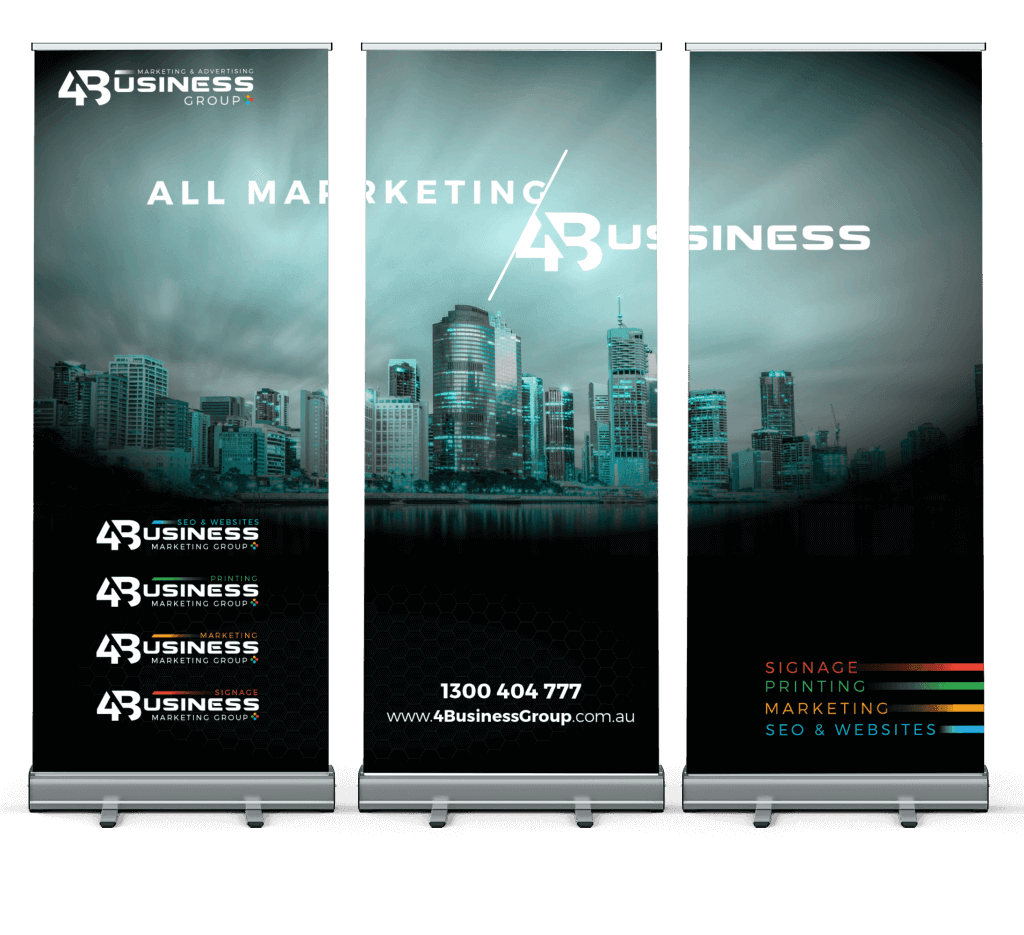 Banner Printing
We can provide Brisbane customers with cheap banner printing with fast turnaround times. Whether you need pull-up banners for your next trade show or fixed banners to promote your business and its products and services, 4Business Group are a one-stop shop when it comes to banner printing Brisbane.
3 Reasons to Choose Our Brisbane Banner Printing Services
Competitive Pricing for banner printing.
High quality banners that will last.
Get your business noticed with high quality banner printing.
Elevate your business' brand with our wide range of printed flags. For Brisbane based businesses we offer custom flag printing, flag design and flag manufacturing. Whether you need a single flag or are wanting to place a bulk order, you can be sure that our flag printing services are cost effective and that our products are of the highest quality and designed to last.
3 Reasons to Choose Our Brisbane Flag Printing Services
Quality materials and a wide range of options.
Fast turnaround on small and large orders.
Discounts for larger flag printing orders.
Corflute Signs
Corflute signs are a great way to advertise your business in outdoor locations. Corflute signs are a cheap and hard wearing advertising medium and can be printed in a wide range of styles, colours and sizes. 4Business Group has been providing corflute sign printing to our customers for many years, and are experts in pre-press graphic design and offset printing techniques.
3 Reasons to Choose Our Brisbane Corflute Sign Printing Services
High quality corflute sign printing.
Competitive price.
Fast turnaround.
Signage Printing
4Business Group specialises in signage design and signage printing services for Brisbane based customers. If you are wanting to update your existing signage to capture more attention or are needing new signage for an office renovation or fit out, we have a wide selection of materials, sizes and styles and can custom manufacture signage to meet your specific requirements.
3 Reasons to Choose Our Brisbane Signage Printing Services
Huge range of signage materials, styles and options.
Fully customised signs for your business branding.
Cheap pricing for signage in Brisbane.
Large Format Printing
Be seen with a wide range of large format printing product options. We can print everything from posters and decals through to banners, canvas, signage and more. We have access to the latest large format printing technology and can offer fast design and printing services for our Brisbane customers.
3 Reasons to Choose Our Brisbane Large Format Printing Services
Latest large format printing technology.
Competitive pricing for large format printing in Brisbane.
Wide range of printing materials and finishes available.
Brochures & Flyers • Stickers • Booklets • Banners • Business Cards • Stationery • Promotional Products
Printing, Branding and Identity
For over 5 years our customers have been relying on our team of creatives to provide them with innovative, original and striking business branding. Your brand is important and gives you the opportunity to connect with your customers, align your stories and provide a professional image as a basis to build trust and loyalty.
Logo Design
A great business branding strategy starts with an iconic logo. Your logo is the first thing a customer will see, and is an amazing tool to build your business's personality and style. Good logo design focuses on creating highly memorable imagery that will stay top of mind for customers when they are searching for the products and services you offer. Our team of in-house Brisbane based creatives can help you understand your customers and your brand, build your brands identity and design a logo that reflects the essence of your business.
3 Reasons to Choose Our Brisbane Logo Design Services
Get a logo that your customers will remember.
Best graphic designers in Brisbane.
Tell your story through your brand.
Business Cards
First impressions count! Make an impact with an original and memorable business card and position yourself a level above the competition. We can help start up and existing businesses with clever business card designs that will ensure your contact details are on hand when your customers need it.
3 Reasons to Choose Our Brisbane Digital Marketing Services
Wide range of printing materials and finishes.
Business cards die-cut to any shape or size.
Business cards that impress.
Flyer Printing
Flyers are a cheap and quick way to get your message in front of as many peoples eyes as possible. We can help design and print any type of business flyers from DL flyers, bi-fold flyers, tri-fold flyers and more.
3 Reasons to Choose Our Brisbane Digital Marketing Services
Cheap flyer printing in Brisbane.
Huge range of styles, sizes and colour options.
Get your promotions seen.
We give our customers a wide range of choices when it comes to sticker printing. Stickers are an excellent promotional item for your business and products and can help increase brand awareness by getting your message out there in the market. 4Business Group can design, print and die-cut stickers in any shape, colour and size.
3 Reasons to Choose Our Brisbane Sticker Printing Services
Hundreds of options to choose from.
Fast turnaround for sticker printing.
Affordable sticker printing prices for Brisbane clients.
Whilst digital marketing is integral to the overall marketing strategy of any business, having a professional brochure gives you the opportunity to speak to your audience and promote your products and services even when their computer screens are closed. Let 4Business Group help conceptualise, design and print company and product brochures that educate, persuade and entice!
3 Reasons to Choose Our Brisbane Brochure Design and Printing Services
Brisbane's best graphic designers to bring your ideas to life.
Tell the story of your business and products with quality brochures.
Increase sales with high quality brochures and sales collateral.
Ensure your business is always presenting a professional image with brand aligned business stationery sets. From letterhead and with compliments slips through to presentation folders and printed business forms get your businesses professional communications aligned and consistent with professionally designed and printed business stationery sets.
3 Reasons to Choose Our Brisbane Stationery Printing Services
Maintain a professional and consistent brand image.
Impress your clients with high quality stationery printing.
Stand out ahead of your competition.