Are you looking for signage graphic design, signage printing or manufacturing in Brisbane?
Signage Services for Brisbane Businesses
Billboards and Banners

Front Shop Signs

Aluminium Composite Panel Signs

A-Frame Signs

Real Estate Signs

Business Signs

Metal Signs

Shop Signs

Custom Signs

Vinyl Banners

Window Signs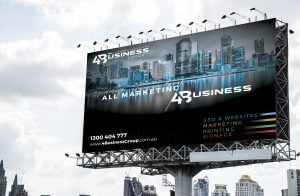 Our billboards and banners are weatherproof and provide you with high quality and long lasting visibility in outdoor spaces. Billboards and banners can be either digitally printed or manufactured using vinyl decals which gives you a huge range of choices and design options.
We can also customise your billboards or signage for any installation requirement including railings, ceiling hooks, wind-breakers or track mounting systems.
Product Benefits
Full concept and graphic design services
Large range of standard and non standard sizing options available
Wide choice of installation options
Cost effective and high quality
Fast turnaround
Fire retardant options available
Retail shops, cafes and restaurants can increase their foot traffic with unique, high quality and eye catching shop front signage. Our shop front signage services will ensure that your business is noticed in areas of high competition. We can help with all aspects of shop front signage design, manufacturing and installation and have helped a number of Brisbane businesses increase their foot traffic and sales with custom promotional signs. There are also a large number of options available to business owners, so our experts can help simplify the process by providing advice based on our years of experience.
Product Benefits
Wide range of signage materials and design options
Experts in signage installation
Industry leading signage advice
In-depth knowledge of store front sign options
Options available for all budgets and price ranges
Hundreds of happy customers
Obligation free site visit and quote.
Aluminium composite paneling is an excellent choice as a signage material as it is strong, weather resistant and comes in a wide range of colours and thicknesses. ACP signs are popular for use in outdoor displays, outdoor signage and advertising panels. These panels can be cut and bent to shape to provide eye catching 3D signage for businesses who are wanting to stand out in the crowd.
Product Benefits
Light weight
Weather resistant
Easy to clean
Wide range of pre-coated colour options
Strong and flexible
Wind resistant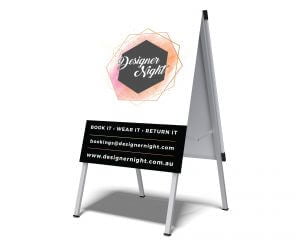 A-Frame signs are a brilliant way to advertise your products and promotions to people walking past your business. A-Frames grab attention and can be customised to suit the exact needs of your business. With a wide range of printing and construction options, A-Frames are a flexible, cost effective and professional advertising medium. We can also help you with choosing A-frame products that can be reused and recycled to lower the cost of your marketing signage.
Product Benefits
Large range of sizes available
High quality frame construction
Replaceable sign inserts to extend the life of your investment
Flexible design and printing options
High impact, low cost signage.
4Business Group has been working with Brisbane Real Estate Agents for their property signage needs ongoing for many years. Our signage services for real estate agencies include the production of For Sale and For Let signage, property brochures, real estate agency signs and more. We can provide fast turn-around and competitive pricing on corflute and plastic wrap real estate signs to meet the needs of your business and impress your clients and landlords.
Product Benefits
Huge range of real estate signs available
Discounts available for bulk printing
Discounts available for ongoing signage printing orders
High quality printing solutions for real estate
Professional graphic design services for real estate agents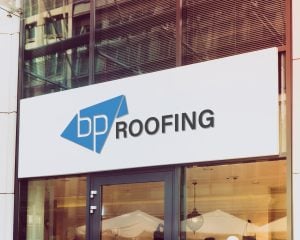 Business signs are a crucial part of the way your business promotes its image and brand to potential customers. Professional signage helps to build customers' trust and loyalty and can help set your business apart from the competition. Whether you are a retailer, cafe or restaurant, services business or office, we can help with all aspects of designing and creating your business signs.
Types of Business Signs Available
Plastic signs
Reception signs
Metal signs
Window signs and displays
Promotional signage
A-Frame Signs
Banners and Billboards
3D Signs
Metal signs are a very popular choice for Brisbane businesses as they are strong, long lasting and stand up to our harsh weather conditions very well. Metal signs can come in a variety of styles and coatings which provide customers with a huge range of choices in how their metal signs can be designed, manufactured and installed.
Metal Signs are great for:
High impact promotions
3D and textured signs
Outdoor signs and shop front signage
Weather resistant signs
Custom metal sign designs
Your shop signs are the first thing your customers and clients will notice about your business. Shop signs should be high quality, reflect your business brand and give a feeling of professionalism. Whether in your reception, on your fascia or shop front, your signage is an opportunity to begin telling your customers your story. We have helped hundreds of Brisbane business with their shop sign designs and manufacturing, and can manage the entire process from shop sign concept design right through to installation.
We can help with:
Shop sign concept creation
Sign graphic design
Sign CAD design and file conversion
Sign manufacturing planning
Shop sign installation and maintenance
4 Business Group's clients have one of the largest ranges of choices with it comes to custom signs in Brisbane. No matter what your design inspiration is, our team of Brisbane based custom sign design experts are here to help. For over 10 years, we have been helping Brisbane businesses get noticed through creative, innovative and original custom sign making, and we are certain that we can help you with your custom sign needs.
We are experts in:
Custom sign concept creation
Custom sign graphic and CAD design
Signage consulting and advice
Custom sign making and manufacturing
Installation of custom signs for offices and shop fronts.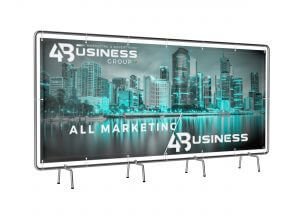 At 4Business Group we can offer one of Brisbane's most extensive ranges of vinyl banner options. Whether you are needing exterior banners, banners for a trade show or exhibition, hanging banners, framed banners or cafe style banners, you can be sure that we have the experience and know how to get the job done quickly and cost effectively. Vinyl is a tough, weather resistant and flexible option when it comes to signage:
Product Benefits of Vinyl Banners
Light weight
Weather resistant
Easy to clean
Wide range of printing and production options
Flexible fixing options including ceiling and wall hanging, framed or roped
Window signs and graphics provide retailers, cafes and businesses in general with the opportunity to make the most of their shop front's presence. Grab the attention of people walking by and lure them into your business with exciting promotions and product advertising. Window graphics and wraps also provide a professional image, allow for frequent updating, block light and UV rays in your business and provide privacy to shoppers.
Let our team of window sign experts help you with:
Window graphics and design
Etched window graphics
Transparent window graphics
Opaque window graphics
Window promotional wraps and decals
We're the best in the business.
We offer competitive pricing and excellent service for all your signage needs. Talk to us before you go to Signarama, Fabsigns, Signmart, Sign Age Brisbane, Brisbane Custom Signs, Simply Signs, or anywhere else!
Interested in finding out more?
At 4Business Group we have been helping Brisbane businesses bring their ideas for business signage to life for over 20 years. Our team of Brisbane based signage experts can help with every stage of the process including sign concept, graphic design, CAD design, manufacturing and printing and installation and maintenance. If you are starting a business, or think your existing signage could use an update, then we would love to speak with you about our offerings. We offer our clients a complimentary site inspection, together with an obligation free quote for your consideration.
For more information, reach out to our friendly customer service team on 1300 404 777 or email us at [email protected]